---

---
Project Tractor History:
1927 McCormick-Deering
Model 15-30
This 1927 McCormick-Deering 15-30 Gear Drive Tractor, serial number TG-55496, was purchased new in 1927 by Frank Mayhew of rural Lewis, Kansas. It was sold by Trousdale Hardware in Trousdale, Kansas, and was Mr. Mayhew's first tractor. Mr. Mayhew traded eight head of horses and some cash for it, and the hardware store sold the horses.
Its last field work was done in the 1930's or 1940's. Mr. Mayhew bought a 22-36 in 1929, and after that, the 15-30 was only used for field work as a backup. Its primary use after the 22-36 was purchased was belt work on a feed grinder, and this was occasional.
As of July 20, 2002 when this tractor was purchased by Mark Stephenson, it had spent its entire working life on the Mayhew farm. Donald Mayhew, Frank's son, was eight years old when Frank brought this tractor to the farm. He still lives there at age 83, and the tractor has been there with him for 75 years.
Our Assessment of the Tractor
Here's a note I received from my brother shortly after acquiring this tractor...
"The fan belt has never been changed, it still has one original spark plug, and he doesn't think the magneto has ever been off of it. It was used for about two years, till they bought a 22-36, and then it was the backup plowing tractor, and used primarily on a feed grinder. Two seasons of regular plowing on a half section is almost all the farming it's done.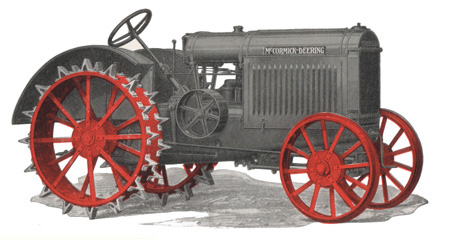 The lugs look bad because they took the lugs off of this one and put them on the 22-36 when they wore out its first set. These were spares from something else.
Don says he put some cream separator oil in the fuel and got it smoking good the last time it ran, and then used Marvel Mystery Oil in the cylinders every fall to keep the engine loose. Chances are the valves aren't stuck either.
Based on that, I believe we should flush the crankcase, remove the rocker arm cover and roll it over, checking the valves, before we ever try to start it. Frankly, I think a set of plug wires and a good carburetor cleaning will probably have it running, although we have to plug a hole in the radiator to run it any length of time.
I am VERY pleased with the quality of this tractor, and although it's gonna take some fenders and platform work, and hood sides, the rest of the tractor is unbelievable."
(continued at top right column)
Old Don Comes Alive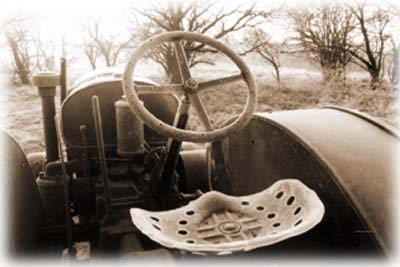 Well, my brother was correct in his assessment and with about a day and a half of "tinkering" we were able to fire up this old workhorse
(click here to see video)
.
Our efforts consisted of "brightening" up the contacts on the original E4-A magneto, replacing the spark plugs and wires, running gas line from the starting tank (a one gallon canister just behind the water tank), because the water and kerosene tanks were victims of time and rusted through. I had taken time to bead blast and rebuild the original kerosene carburetor and brought that with me to reinstall.
A quick inspection through the hand holes of the engine block revealed the pristine internals and quickly brought a smile to our faces. Further investigation as we turned the crank over slowly revealed a single stuck valve. We were able to free the valve with little effort.
Now it was just a matter of getting it started. From the video, you will see the initial start up (after many trials and adjustments to the carb and other small items) and how the engine was barely running and would die. Then my brother reached in and flipped the impulse on the mag and tried it again. This time she came to life and burned off much of the cream separator and Marvel Mystery oils. The next spin of the crank brought her fully to life after 52 years idle amongst the trees out back of the Mayhew Farm.
Our next matter of concern was the clutch which seemed not to engage. With some adjustment, we were able to get it working and you will see us driving this tractor for the first time.
Months later, during our restoration efforts we found the cause of the sticking clutch. A very large wasp nest had been built all around the clutch mechanisms and plates. The radiator was an ant farm and need patching but not too bad and will be reused after soldering some leaks. The hoses are full of holes and the fan belt came apart after a few times running. But all-in-all, a beautiful original tractor to work with.
The Restoration Has Begun
We have begun to restore "Old Don" and the tractor has been disassembled, sandblasted, and primed. The upper radiator tank has been painted with original
McCormick-Deering tractor gray paint
click here to see related story)
. Soon the rest of the parts will also be painted from the same gallon of paint.
Well, that's all to report for now. As more progress is made this page will be updated.
We hope you enjoyed this discovery and restoration story and your visit to
McCormick-Deering.Com
.
Note: Our family has always had a practice of naming our tractors for the previous owner. So, since this tractor was purchased from Don Mayhew, we affectionately refer to this 1927 model 15-30 as "Old Don".